Camp Ramblin Rock
Camp Ramblin rock takes interested students and trains them in a recording studio atmosphere. In five days they learn instrumental parts, vocal scores, stage presence and performance techniques. On Friday, the final day of camp. they play on stage for family and friends.
TIME – Monday through Friday 9:30am-1:30pm (Drum Camp 1:30pm-4:30pm)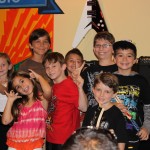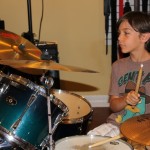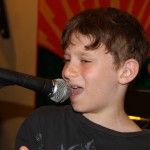 June 10-14th String Camp
Violin, viola and cello musicians will work to form a string section and perform for parents and friends. Some experience required – need to know first position well.
June 10-14th Camp Be-Beat (Drum Camp) Time 1:30pm-4:30pm
This is for all you drummers out there, all ages, all levels of experience. You will learn to work with other drummers, practicing rhythm and timing.
Drum Set, Doumbek, Bongos, Djembe, Wood Block and more!
June 17-21st Rock Opera
A sound so epic! This camp will stretch your child's imagination and creativing. Combining the two disciplines, instruments and vocals, we go for the best sound. get ready to rock!
June 24-28th Drama Camp
This camp produces a musical theater production where your child can sing, dance, and act.
July 8-12th Rock Camp
Dedicated rockers only need apply. As long as you want to rock you're invited to join in a rock band – classic, alternative, indie rock, whatever is YOU. All ages can participate.
July 22-26th Rock Opera
This will be our second summer rock opera combining instruments and vocalists to create a fabulous show.
July 29-August 2nd. Glee Club Camp
Do your kids love to sing? Join our new glee club camp where students will learn proper warm up techniques, basic harmonies, how to sing in a group while using simple dance steps for a concert you'll never forget!
Price $230/week
Additional sibling, $180
Each camp 9:30-1:30 except drum camp, 1:30-4:30
Please pack a lunch
25% discount if you attend more than one camp
Deposit required to hold your child's spot.
Call now to reserve your child's place!